Clonit obtains EU 2017/746 Regulation on In Vitro Diagnostic Medical Devices Certification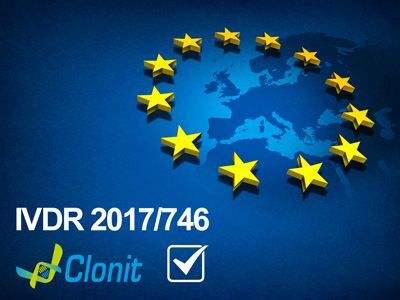 31 Mag 2022
We at Clonit are extremely proud to announce that we obtained the certification of our products according to EU 2017/746 Regulation on In Vitro Diagnostic Medical Devices (IVDR). Certification for Class C products was issued by TÜV SÜD Product Service after a successful two-stage Audit.
It is estimated that around 70% of clinical decisions are made using in vitro diagnostic medical devices. Following a five year-long transition period, the IVDR replaced the IVDD (In Vitro Diagnostic Directive) on 26 May 2022, introducing substantial changes in the sector and establishing a new regulatory framework. The Regulation aims to ensure a high level of protection of public health, patients and users and the smooth functioning of the internal market and applies to all EU member states. Despite a progressive roll-out set to prevent disruption in the supply of these essential healthcare products, Certification according to IVDR is mandatory as of May 26, 2022 for all manufacturers of in vitro diagnostic devices in order to:
- place on the market new products certified for in vitro diagnostic use
- certify substantial changes to existing products.
The entry into force of the IVDR will usher a new era for the in-vitro diagnostic medical devices. Clonit is ready to face this important challenge and supply to customers and patients reliable IVD products complying with the highest international standards and up-to-date regulations.
---